Your Fortune Cookie Fundraiser Has a Surprising History – and a Bright Future!
The fortune cookie is an indelible part of the American dining experience. Whether we're making memories over egg rolls and spareribs, or unboxing steaming hot noodles in front of the TV on a lazy Saturday, it's always been understood that a crispy cookie with a fortune tucked inside awaits us at the end. This ubiquitous Asian treat has even found its way into the fundraising circuit – after all, what better fundraising idea than something that brings an automatic smile to people's faces.
The meteoric rise of the fortune cookie fundraiser has us wondering: why do we love fortune cookies so much? And why are they so popular across the world – except China?
The Snack That's All Over the Map!
Few people question the origin of fortune cookies – after all, they're omnipresent in Chinese restaurants the world over – or almost. One Japanese researcher began questioning the origin of the curious cookie that she'd sampled in Chinese restaurants all over New York, but had never come across in China. However, it was only back in Japan when she found a snack with an identical shape and paper insert at a restaurant in Kyoto that she really started digging. Yasuko Nakamachi's subsequent research turned up solid evidence that the fortune cookie is actually a Japanese creation.
The Japanese snack is more of a cracker than a cookie, flavored with sesame and miso, and has remained a bit of a niche item in Japan. Its closest relative, however, exploded in popularity and became widely associated with Chinese-American culture. This began when Japanese immigrants in California started opening restaurants serving Americanized Chinese food, as they deemed it an easier sell than traditional Japanese cuisine. It seems it was there that the fortune cookie crossed over to the Chinese menu. After World War II, soldiers returning home from fighting in the Pacific would request fortune cookies at their local Chinese restaurant, and the restaurant owners were happy to oblige. The rest, as they say, is history. You can read the whole story here.
The New Look of the Modern Fortune Cookie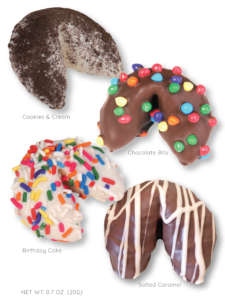 People are always looking for a new twist on an old classic. We've seen this phenomenon with Cronuts, Dippin' Dots, and gourmet pretzels, to name a few. Fortune cookies are simply the latest to get the gourmet treatment. Their unique clamshell shape makes them perfect for dipping and decorating. And that's exactly what some modern fortune cookie companies have done, including our Famous Gourmet Dipped Fortune Cookie Fundraiser.
Elevated with colorful candy coating and stuffed with uplifting quotes and sayings, our fortune cookie fundraiser is a creative and fun alternative to traditional candy bar fundraisers. And they're a great way to increase your group's fortune! Let's take a look at how this eye-catching fundraiser works.
Crack Open Your Profit Potential!
What makes this fortune cookie fundraiser so sweet? Besides the obvious – they're delish! – here's a quick overview.
Supporters will be drawn to the colorful, eye catching flavor variety. The 4 fab flavors include birthday cake, chocolate bits, cookies & cream, and salted caramel. Plus, the handy carrier resembling a classic Chinese takeout box is a true conversation starter! It's the perfect addition to your school fundraising strategy – or your game plan, if we're talking sports fundraisers.
At $1 a pop, they're an affordable treat for any group. They're perfect for selling during school hours, at sports games and rallies, and during event fundraisers.
They can be sold in bulk for even more profit! Those enchanted by these gourmet goodies will be wondering how they can get their hands on more. Make it easy for them – and profitable for you – by offering full or half cases, or single carriers (1 case contains 4 carriers). Try approaching businesses, schools, and youth organizations about bulk purchases. They make a great treat or reward for kids and adults alike, plus the purchase counts as a charitable donation.
They help spread much-needed positivity. Within each cookie supporters will find an uplifting message, something we all could use more of right now. Examples of "fortunes" include anti-bullying sentiments, inspiring quotes, and time-honored proverbs. And in a time of unrest and uncertainty, any little spark of joy can help light the way to a brighter future.

Justfundraising.com has been a distributor of Van Wyk Confections for many years. We are proud to work with them and know they will treat you right. If you want to know if a $1 Fortune Cookie Fundriaiser is right for you, give them a call. One of their friendly customer service members will advise you on pricing, profit percentages, recommended quantities needed, minimums and other helpful tools.